Pozdrav od Ježíška

We make children happy. In children's homes too

PozdravOdJeziska.cz is our very own project, which we have been dedicated for the fifth year now. The service enables parents to respond as baby Jesus to the spoken and unspoken wishes of their children through personalised postcards. In 2019, we extended the project to a charitable dimension, and handed over equal CZK 100,000 to the Fund for Children at Risk for children in Children's home.

Show online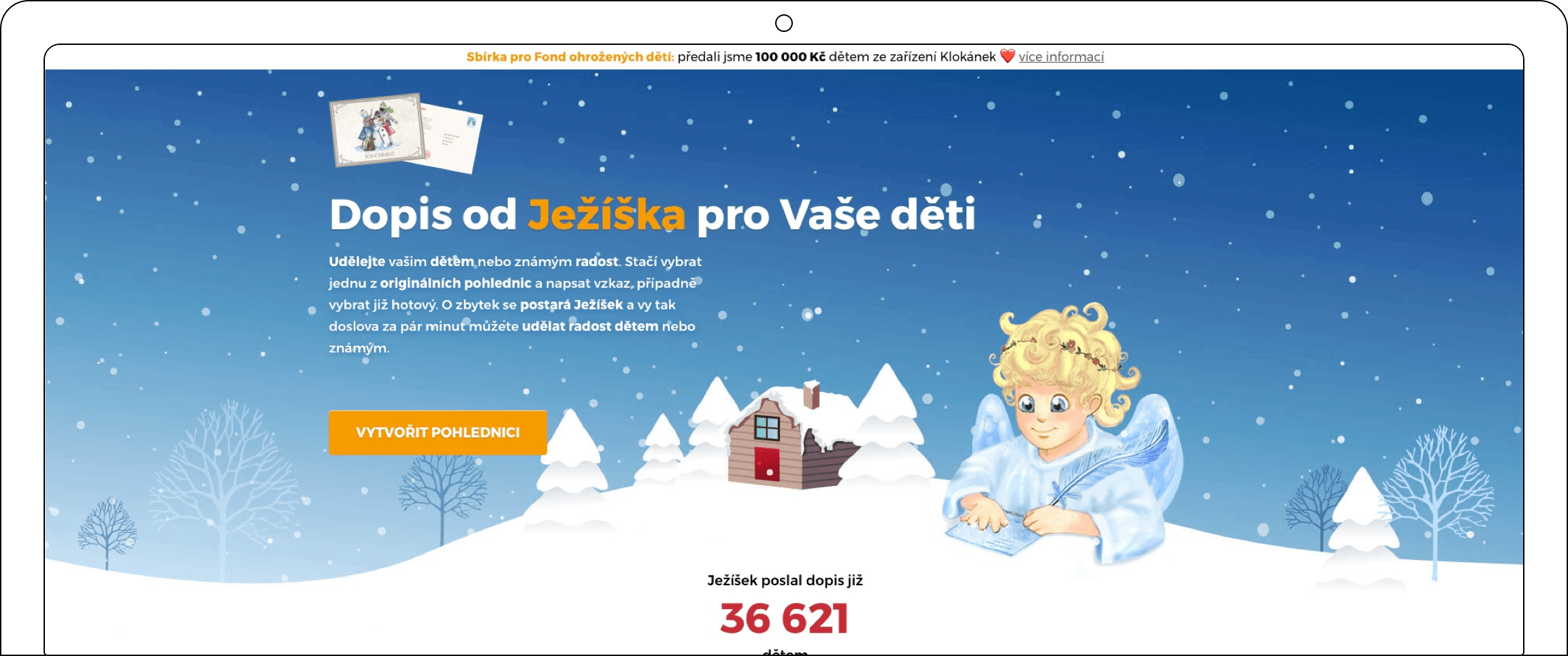 Results
36 000
number of postcards sent
100 000 Kč
obtained for children's home
more than 20 %
conversion rate
Challenge
The ultimate challenge was to employ our expertise in digital product design, process automation and performance marketing for our own, stand-alone product. 
1/
Solution
We have developed a simple, one-page website where a parent chooses a postcard, fills in a message to their child from "Baby Jesus", and enters the address where the postcard should be sent. The customer can optionally contribute to the Fund for Children at Risk, which operates Klokánek facilities throughout the Czech Republic.

But at first glance, a simple website is a comprehensive solution that automatically prepares print data and sends it to the printer. In addition, the solution must be ready for the pre-Christmas peak, when customers order dozens of postcards in very short period of time.

In the fall we always put together a expert team that helps to get the most out of the marketing potential of the project. This team consists of specialists in performance marketing, PR and also collaboration with influencers.
Result
In 2019, we sent over 20,000 postcards and received CZK 77,666 from the 1,829 people for the Endangered Children Fund, to which we added our own donation, rounding off the amount to CZK 100,000. In addition to a great result and a very usefull help for Klokánek facilities, we have also taught them new ways in fundraising for the Fund for Children at Risk, that they can use in future.
Client opinion
"Thanks to all who contributed in fundraising for helping. And we thank Integritty for opening our eyes on how we can do fundraising in the digital world. "
Hanka Kupková
Chairwoman of the Fund for Children at Risk
Are you facing a similar challenge?
Contact us and we will find solution!